By Jerry Gaudet
This from Jackie Hart Lookabil's daughter, LaGena Lookabill Greene...

 
"Could you ask for prayers for my Mom? She had a big fall in December 
that required a full replacement surgery of her right shoulder. 
This injury led to her need to be in a rehab facility until 
mid- February and then another move coming up to The Summit,
 an Assisted Living facility on Runnymede. 
Dad will be with her and I will relieve him as much as I can. 
She has had one of us with her 24 hours a day since the accident 
on December 17th. She's understandably disappointed that she can't go
 back home anytime soon. 
Thank you for your prayers for her to push thru Physical Therapy
 and strength for Dad to deal with Mom's short-term memory loss 
as an unfortunate result of a left shoulder replacement 
surgery 2 years ago.

 
 

I have no doubt that many of you are having difficult challenges
 as well, but I would be so grateful for your prayers 
for my beloved parents. 
With Gratitude,




LaGena Lookabill Greene

 
 (Encouraging notes can be sent to  JackieGeneCHS@aol.com )" 
For those of you who may not remember the story of Gene and Jackie's
brave and couragous daughter LaGena, here's a story she wrote for
the National Magazine, ENDURANCE 
INSPIRATION – Faith, Love & Endurance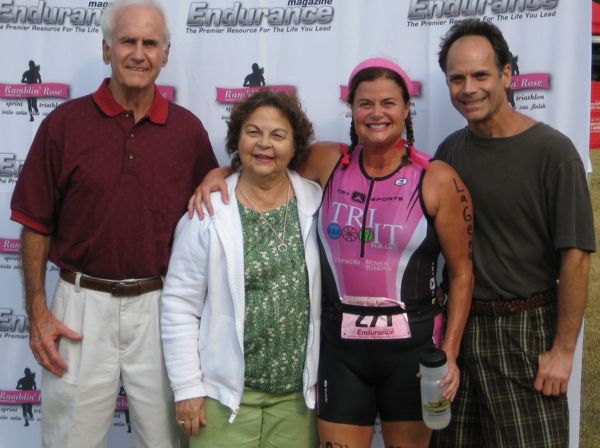 By LaGena Lookabill Greene
I grew up in a close-knit family in Charlotte, North Carolina. I was a cheerleader, competed in gymnastics, and attended UNC–Chapel Hill on an academic scholarship. I was on a successful career path when I was devastated to learn that I had been infected with HIV at age 25.
I've been on the edge of death countless times from deadly pneumonias, cancer, encephalitis. Daily infusions of toxic medicine through IVs and PICC-Lines, swallowing handfuls of pills and vomiting were how I spent my days for years. For a four-year stretch I lived with virtually no immune system (CD4 count of 0) and no new AIDS treatments available. At one point I was hospitalized and given only a few months to live because my body had wasted to 89 pounds. Now at 49, I have survived the ravages of AIDS for 24 years. My body battles side effects of many medications, one which injured my pancreas, causing me to become an insulin-dependent diabetic. I wear an insulin pump 24 hours a day. I could have never endured the challenges of this journey without the sacrificial love of my parents and brother, the amazing devotion of my precious husband, and a faithful circle of friends. It is only by God's infinite mercy that I am still alive. He is the One who sustains me.
In September 2009, our 5-year-old goddaughter, Jordan, was diagnosed with AML Leukemia. I spent much of my time helping her family during her long hospitalization. As the months passed, I skipped meals, snacked on junk food, had trouble sleeping and felt too exhausted to work out. Additionally, my own mother's health took a turn for the worse and I feared losing her. By March 2010, I had not exercised in 7 months and felt anxious and depressed. My endocrinologist told me that if I didn't take better care of myself, diabetes was going to kill me.
My friend Julie, a triathlete, showed me Endurance Magazine and an ad for the Ramblin' Rose Series caught my eye. Pink is my favorite color, and I liked the fact that it was for women and a distance that might be attainable for me. On impulse I signed up for 3 Ramblin' Roses. At that time I had no concept of what it would take to become a triathlete. The only swimming I'd done was as a 12-year-old on the neighborhood swim team. My 20-year-old pink mountain bike had rotten tires, and I had never been a runner. I bought a size 14 turquoise blue Speedo that hid none of my flaws and went to swim a few laps at the Y. The first time I tried to lift myself out of the pool at the end of the lane, I pushed up with my arms like I remembered doing as a child, and flopped forward and kind of rolled onto the deck like a walrus. As I awkwardly stood up, no one noticed the tears streaming down my face, or heard the negative voice in my head that snarled, "You can't do this." I was tempted to quit, but found a tri group at the Siskey YMCA led by Melonie Lewis, who is tough as nails. Melonie had to teach me the correct way to swim, but only after weeks of drilling with swim toys that were completely foreign to me. Doing drills for those first couple of weeks I felt like I was going to drown. My new swim buddies, both girls and guys, were so encouraging. The first time we had to race a partner in the pool, I rediscovered the competitiveness deep within me that had been buried for a long time under piles of discouragement, despair, and fear. It was friendly competition, but it reignited that fire. The energy of my tri group propelled me.
In June, I caught bacterial pneumonia and developed severe sepsis. I clung to life in the ICU. This was a serious setback physically. Emotionally I lost a lot of momentum, but spiritually I gained strength from spending more time in God's Word.
The atmosphere of a Ramblin' Rose Triathlon is like nothing I have ever experienced. Women of all shapes and sizes dressed in bright colors are everywhere. Upbeat music blasts into the early morning air. The excitement is palpable. There is an overwhelming feeling of unity among the athletes that I suspect is unique to the Ramblin' Rose. There are talented, accomplished athletes mixed in with beginners like me. All along the bike and run course, friendly volunteers rang cowbells and shouted words of encouragement that energized me. The most powerful moment for me as a newbie, was hearing the MC announce as I crossed the finish line "Congratulations, LaGena, YOU ARE A TRIATHLETE!" These words are so powerful, and they still echo in my mind. They will forever remind me of what obstacles I'd overcome in learning three new sports, the discipline it took to train, and more importantly the hope it instilled in me to never give up.
In Winston-Salem, when I crossed the finish line, I ran into my husband's arms and he smothered me with kisses. Danny has been my rock through this process, a constant source of encouragement and love. During the awards ceremony, the MC took a momentary break from announcing winners and said, "Let's cheer for this athlete who's coming in." Everyone turned their heads to see an overweight woman with tears of joy rolling down her cheeks as she crossed the finish line along with her family of supporters. Thunderous applause exploded from the crowd. Everyone who crosses the finish line at a Ramblin' Rose is cheered as a champion.
The Charlotte Ramblin' Rose was the most important race to me because it would be the first time my mom, dad and brother would see me in a triathlon. Coming out of transitions and along the run course, I searched for my family's faces and locked eyes with them. My heart soared feeling their love and for the first time I was able to run the entire 2 miles to the finish line. When I was given my finisher's necklace I placed it around my mother's neck. I had dedicated the Rock Hill race to God, Winston-Salem to my husband, but this one was for my mom, the woman I love and admire most in this world. Then I was reminded of the scripture written on one of my running shoes. "I can do all things through Christ who strengthens me." Sheer joy and thankfulness radiated from my soul.
What an inspiration! What a daughter!